February 15, 2022
Ryco Advisors Ranks #6 among over 1400 Intermediaries for Closing Deals in 2022
Ryco Advisors announced today that it has been recognized by Axial as a top intermediary in the lower middle market space for closing deals in 2022.
Axial ranked Ryco Advisors #6 out of over 1400 intermediaries for the highest deal closing rates.  Axial's rankings were assembled based on the dealmaking activities of 1,435 sell-side M&A advisors and defined "close rate" as the percentage of successfully closed deals brought to market by a particular sell-side advisory firm over a specific period of time.
"It's an honor to be recognized by Axial for our high deal close rate," said Rob Margeton, Principal at Ryco Advisors. "We pride ourselves on our thorough sale process methodology and our focus on getting deals across the finish line."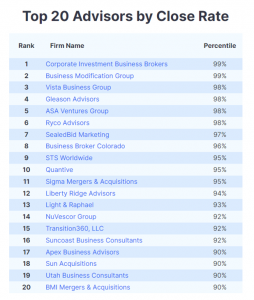 Source: Axial: "Close Rates in Lower Middle Market Sell-Side M&A"
About Axial
Axial is the largest platform on the internet for buying, selling, advising, and financing private companies in the lower middle market ($5-$250M TEV).  Over 3,500 advisory firms and 2,000 corporate and financial buyers have joined Axial to efficiently connect with relevant capital partners, source actionable deals, and build new relationships.
About Ryco Advisors
Ryco Advisors is an Atlanta-based independent advisory firm focused on the sale of small and lower-middle-market owner-operated companies.  The professionals of Ryco Advisors are skilled in all aspects of the sale transaction process and have transaction experience across a broad range of industry sectors.  Ryco also offers buyside representation to clients looking to acquire a business, as well as commercial real estate advisory for business owners and investors.
Full Axial Article:
https://www.axial.net/forum/close-rates-in-lower-middle-market-sell-side-ma/